ONLINE REGISTRATION
STEP 1:
SELECT SERVICE BY CLICKING ON A SERVICE ICON.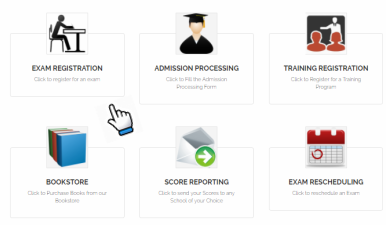 STEP 2:
Fill the RESPECTIVE SERVICE FORMS appropriately and Submit.
STEP 3:
Success E-Mail and SMS alert.
After Submission you will receive a Success E-Mail and an SMS containing an Invoice for the service to be rendered. Contained within the invoice is an INVOICE NUMBER which will be used when UPLOADING YOUR PAYMENT DETAILS.
Please do not delete The E-Mail or SMS received until your payment has been confirmed by us.
STEP 4:
After Receiving the PAMENT DETAILS Via E-Mail and SMS, proceed to make payment into any of the stipulated Bank Accounts:

Which can be done through:
Bank deposit
Money Transfer (For mobile Transfers, please Input your FULL NAME in the "Remark" or "Narration" input field.)
STEP 5:
UPLOAD PAYMENT DETAILS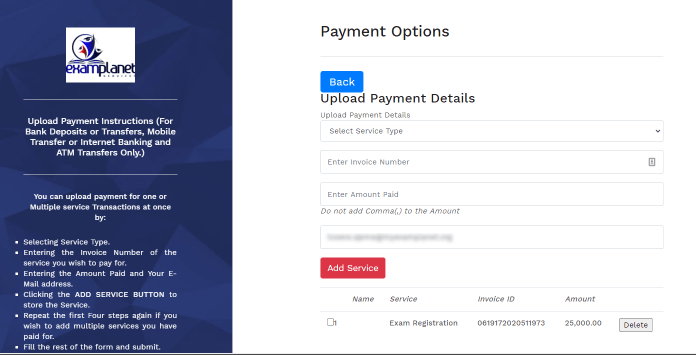 Click the UPLOAD PAYMENT DETAILS BUTTON on the PAYMENT menu and fill in every requested detail CORRECTLY. You can upload payment details for one or Multiple service Transactions at once by:
Selecting Service Type.
Entering the Invoice Number of the service you wish to pay for.
Entering the Amount Paid and Your E-Mail address.
Clicking the ADD SERVICE Button to store the Service.
Repeat the first Four steps again if you wish to add multiple services you have paid for.
Once that is done, continue with the remaining part of the Payment form filling all Fields appropriately then SUBMIT .
It is OPTIONAL to upload a proof of payment Screenshot unless you have been requested to.
After filling all details correctly click on SEND PAYMENT.
Once the payment has been sent, you will receive an Email or SMS confirming that your payment has indeed been received by us, once confirmed, we will begin attending to the service paid for.
If faced with challenges during Registration, Please call (+234)813-512-5845 or (+234)802-960-2155 for Assistance
Preferred Internet BROWSERS for the Best Registration Experience

CLICK ON A SERVICE ICON.